Michelle Todd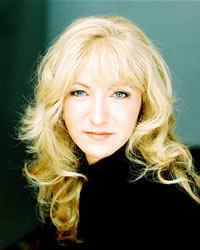 Soprano and actress, Michelle Todd was born in England and studied at Sheffield University, B.Mus. (Hons), The Guildhall School of Music and Drama, London (postgraduate Opera & Voice) and The Banff Centre, Canada.
Her early performing years were as a member of the multi award winning ensemble Cantamus with whom she sang in Germany, Switzerland, Holland, Hungary and Bulgaria. She made her prize winning London recital debut in the Purcell Room followed by solo performances in The Queen Elizabeth Hall and as guest soprano with numerous ensembles and as guest "star singer" for BBC's "Friday Night is Music Night".
Her major roles in London Theatres, include "H.M.S. Pinafore", Stephen Sondheim's "Follies", "Little Me", "The Sound of Music", also "Little Shop of Horrors" (Leeds Play House) and "Twelfth Night" (Exeter Playhouse).
In 1988 she moved to Canada and has starred at The Shaw Festival, The Citadel Theatre Edmonton performed across Canada in recital with the voice/harp duo Amata and was profiled for Bravo! Television. Favourite roles in North American theatres include "My Fair Lady", "Oklahoma", "Cinderella", "Master class", "Side by Side by Sondheim" and "Move Over Mrs Markham". She represented Canada twice at the Cantai Festival in Taiwan as performer, adjudicator, and master class voice teacher. She recently lived in Dubai the United Arab Emirates, performing opera, oratorio & recitals and the sound tracks for numerous film commercials. Michelle has also presented recitals in Kerala, India and conducted choral performances in Philadelphia, USA.
Other biographies